Let's get designing…
We believe in creating a space that is tailored to you & your lifestyle by designing timeless spaces limited only by your imagination and dreams!
We have been designing homes, specializing in kitchen and bath spaces for over twenty years bringing not only experience but our expertise in creating beautiful and functional spaces. We utilize the most innovative aspects of design throughout our process with virtual 3D walkthroughs of your proposed designs to better assist with the decision-making process and selections to create your beautiful home.
Kick Off Meeting: Our first step in your project planning is our initial consult to discuss your design scope and how to start your project planning.
Design Concepts: Time to start designing! After our initial walkthrough we would have gathered our necessary information such as dimensions and photos of your space to bring your space to life through our CAD drawings and virtual walkthrough images to assist with project planning. If you are considering taking down a wall, or rearranging components in a space you no longer have to try imagine what it may look like; we will bring it to life for you, making decisions simple!
Design Decisions & Project Planning: Are you contemplating options that may impact your project budget or are you unsure on if a structural element is feasible? With our initial design concepts you will be able to easily engage with your selected contractor for better, more comprehensive project planning, making the endless options… well, less endless!
It's All In The Details: Cabinetry, Appliances, Plumbing Fixtures, Tile, Countertops, Lighting, etc – with a completed design concept your project planning will continue with product and fixture selections and we are here to provide full service with helping you with all of those selections! Need it outlined on a spreadsheet? Feel like a checklist might be helpful? Want a place for all your documents on a project portal? What about guidance on which showrooms to visit and which trade professionals to trust with your product selections? We work hand-in-hand with you, your selected general contractor and our industry trade professionals to ensure each aspect of your project is planned and executed properly from start to finish!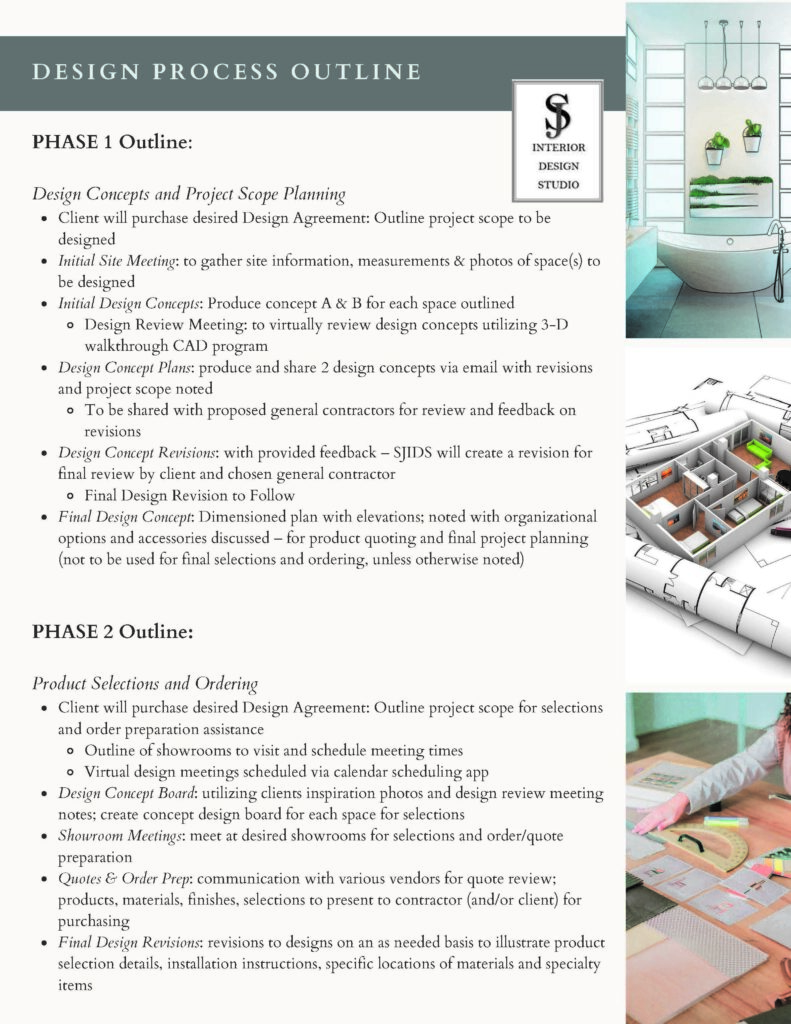 What Clients Are Saying about
SJ Interior Design Studio:
As I said to my husband, we didn't know what we didn't know before the project started… and I can't imagine having to do the remodel and make all those big and small decisions without her. Thank you Sara!

– Ilyssa, Hopkinton MA
Sara has a great sense of style and design that's both current and timeless, and she offered a lot of great ideas that we would likely never have considered on our own and from working with contractors to vendors, Sara is willing to be involved as much as needed. The 3-D animated rendering that Sara produces is incredibly helpful in visualizing the project – and when I go back and look at the approach we chose, it's amazing how much the actual space resembles the video.

– Philip, Milton MA
---